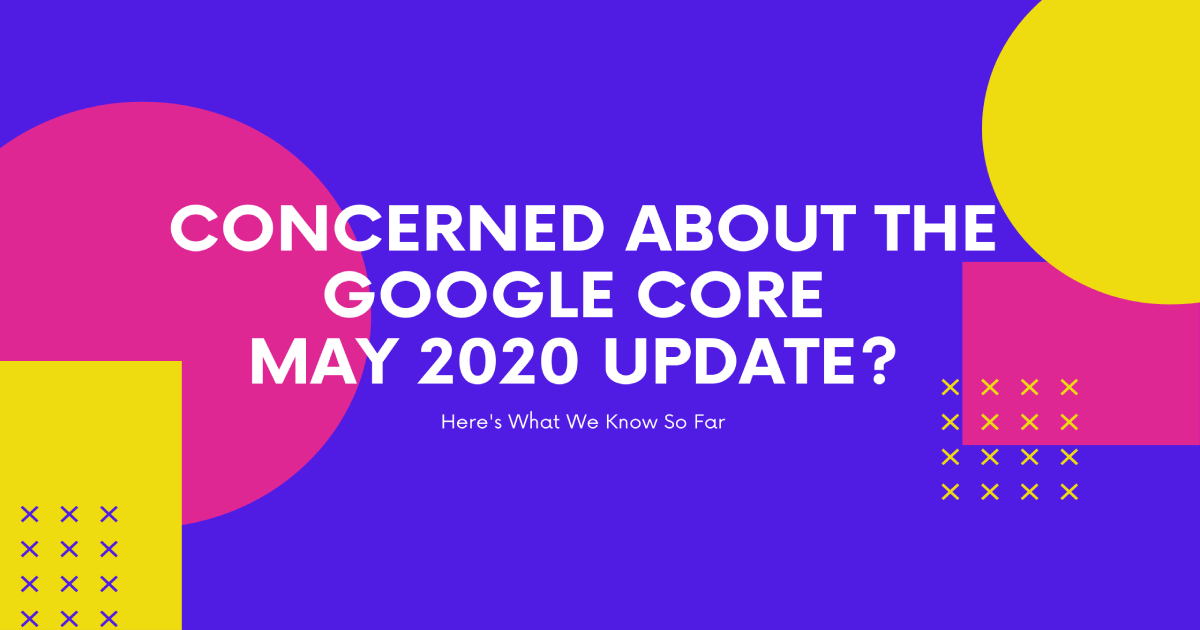 Google confirmed that their May Core update was released on the 4th and will continue to roll out over the course of the next two weeks. What is not confirmed is what the update addresses precisely.
Google is not transparent about how its innumerable algorithms work to determine what is and is not a quality experience for a user. However, over the past few updates, it has become apparent that Google is turning its algorithms towards elevating the importance of both local and intent-based searches.
Understanding the Value of This Latest Update
When Google first gained influence among its competitors such as Yahoo and Lycos, search engines relied on text data and backlinks, and webmasters and content creators did what was known as the "Google Dance" with every update. The sophistication level of the algorithms in the present have no comparison and ensuring your content has the following qualities is crucial:
Unique – not published elsewhere on the web
Relevant to your site –  if you have a site about restoration services you can keep your message strong by only publishing content in that realm
Engaging – this is somewhat influenced by the "time to click" algorithm that determines how rapidly a user clicks off the page. Rich images, infographics, and videos can assist in holding the attention of visitors.
Science of Search Intent
Understanding the research behind the search intent makes keeping up with the quality measures, Google expects site owners to deliver as part of the user interface. Based on a study by the University of Hong Kong in 2006, internet searchers got divided into two main categories:
Information Seekers who are looking to learn more about a topic, product, or service. This search action is often to base a purchase decision upon.
Decision Makers – these searchers have done their research as a member of the Information Seekers, and they are ready to make a decision regarding the information they have acquired.
Previously, either type of searcher would have used specific keywords and phrases to find the information they needed for the purpose of their search, in the present, even the way we search online as evolved and Google has updated how it responds, particularly with its Fall 2019 algorithm update known as BERT (Bidirectional Encoder Representations from Transformers).
The Need to Answer Questions
With all the keywords and keyword phrases in use, Google found their AI did not answer specific questions as expected. To use Google's own example from late 2016 as they were beginning to address this issue: if a searcher is looking for a local store such as Walmart, they want the location in their area, not the company headquarters in Arkansas. And that is one of the intersection points of where local search and user intent began to take off.
In the present, voice search commands a large part of the market, with users asking questions to Siri, Alexa, Google Assistant, and Cortana. They have come a long way from Microsoft's paperclip assistant. Most of the questions will not be keyword specific except in the broadest sense of the term, as they are something a searcher merely wants an answer for. The latest core update is expected to continue to embrace this trend.
Rich Snippets and Special Content Blocks Continue to Grow in Importance
When a searcher asks a question, the answer may appear as a rich snippet. This type is a search result where Google answers the question using content from a website.  The product is sometimes a zero-click (meaning the user did not visit the site for further information), but it can also work to drive volumes of traffic to your site.  It is a vote for the expert-level quality of your site and means your content qualifies on the Needs Met Slider that Google uses to determine whether or not to feature your content as a rich snippet or special content result block.
What Can We Expect to See During the Roll Out?
While the core update continues to get implemented in stages over the next two weeks, website owners can count on seeing fluctuations in their search engine rankings and traffic levels. Sites that have done SEO work to maintain Google's published quality standards are already reporting they see upticks in their traffic levels from organic searches.
Ultimately the goal, according to Google, is to continue to present authoritative and relevant content in response to search requests. They advise if you suddenly experience a drop in traffic, wait for the rollout to complete, as there may not be any improvements in your site or content needed and it is merely a product of the update and your position in the SERPs (Search Engine Results Pages) may not actually be affected.
If you're not already embracing the practice of creating authoritative content that answers questions for searchers that can utilize your product or service, it is time to get a game plan going, or you might get left behind.
One thing is certain; we already see signs that this update positively affects service industries with the potential for increased traffic. Stay tuned for more information on this update as we verify it.