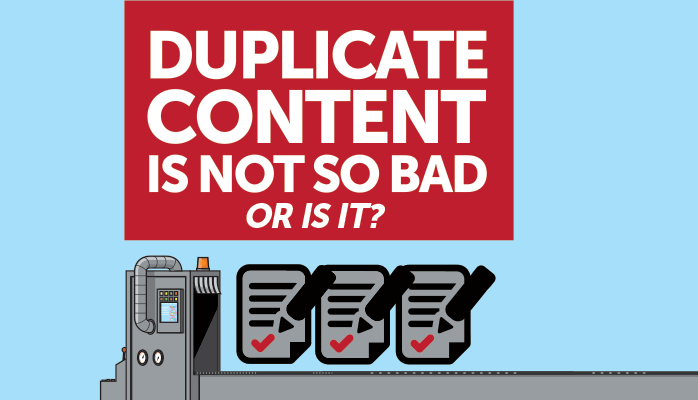 Google wants to reward your great content with incredible organic rankings.
This is Google's Duplicate Content definition: Duplicate content generally refers to substantive blocks of content within or across domains that either completely matches other content or are appreciably similar. Mostly, this is not deceptive in origin…
You may think that just filling up a website with content that you "Borrowed" from another site is ok, the web is so big who would know. GOOGLE KNOWS!
If you are a webmaster or a provider of content of any kind, that is republishing posts, news stories or articles, it is no surprise that you are having trouble gaining traction. If your Google SERP's (Search Engine Results Pages) are underperforming your expectations, it is your fault. Although Google won't put the label of penalty on your site, Google at minimum will not give you credit for the content effort or lack of effort in this case. If you are publishing "Thin Content", Google may even levy a manual action.
The most troubling outcome with 'Thin Content' will be if you trigger the Google Panda algorithm penalty. The Panda algorithm came out February 24th, 2011 and has influenced content ever since. Panda was the first in a series of algorithm updates aimed at penalizing low-quality websites and thin content. Panda was intended to weed out poor quality content from being indexed by Google. Panda is updated from time to time with Google's updates. Over the years Panda has devastated websites Google rankings and traffic. The expectation is, Panda will continue to do so into the foreseeable future.
If you are utilizing web-marketing strategies employing republished or duplicated content, you will most likely cannibalize your traffic and your search engine rankings over the long haul. Google is trying to deliver to the user the best user experience. Showing the same content over and over is a counter-productive use of your time. It all comes down to Google's filters deciding the best use of the content once. After that, it is just considered spam on the net, and not a great read for consumers, time after time. Duplicate content is treated as having no value, as opposed as to having a negative value or penalty.
Google rewards RICH, UNIQUE, RELEVANT, INFORMATIVE and REMARKABLE content in its organic listings. This change in Google's algorithms has had a positive effect in making the web content providers improve their web marketing content.